The PK is a world class grill and smoker. While not only a versatile product at an exceptional price point, the PK Grill & Smoker is of detailed quality, made by people. Today, Portable Kitchen partners with select Sam's Club locations to help offer their customers quality, name-brand merchandise at exceptional prices. As you stock-up for your backyard barbecue, pick up one of the best value grill and smokers on the market.

Why PK Grills?
Versatile Charcoal Grill and Smoker

Cast Aluminum Shell Conducts and Retains Heat More Efficiently than Common Grill Materials

Precise Air & Temperature Control

Even Distribution of Heat = Even Cooking. No Need to Constantly Turn or Reposition Food

Durable and Rustproof. Many Grills Going on 50 Years Strong

Detachable Grill for Adventure Use – Camping, Tailgating, and More

Made by Hand in the USA
PK Grills - Built to Cook. Built to Last.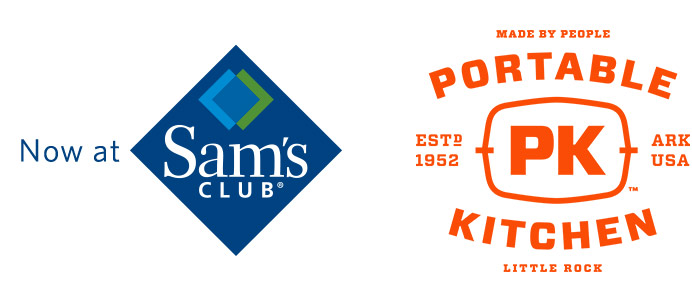 Buy the PK Grill & Smoker at your local Sam's Club, now at these locations:
| | | |
| --- | --- | --- |
| 2101 SE SIMPLE SAVINGS DR | Bentonville | AR |
| 3075 N HIGHWAY 112 | Fayetteville | AR |
| 1368 HIGDON FERRY RD | Hot Springs | AR |
| 2405 S CARAWAY RD | Jonesboro | AR |
| 7700 ROGERS AVE | Fort Smith | AR |
| NORTH LITTLE ROCK | North Little Rock | AR |
Don't see a store near you? You can always buy online!


First crafted in 1952, our hand-made grills continue to be embraced by generations of charcoal grillers.
Excellent Heat Retention & Precise Air Control

Aluminum conducts heat more efficiently than other common grill materials. Heat is evenly distributd, so no need to constantly turn or reposition the food on the grill.

Grill and Smoker Combination Provides Direct and Indirect Cooking

No need for a separate grill and smoker; the PK Grill & Smoker's cast aluminum shell works great for grilling at high temperatures or smoking at low temperatures.

Tough and Portable

Built of inherently rustproof aluminum, rust becomes no match for the PK Grill. Grill and Smoker combination easily detaches for traveling, camping, tailgating and more.

PK's Just Cook Great

Since the 1950's, our handmade grills just consistently cook great. Read Reviews of the PK Grill – or our 5-Star Amazon Ratings.