Posted by Sheila Reese on 11th Jul 2014
Brand new PK owner and local Chef Sheila Reese sent us this excellent recipe and photos this week. Try it out and let us know what you think on our facebook page. You can find more from Sheila at www.born2cookinspired.com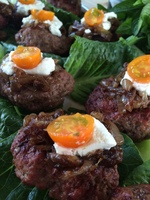 Ingredients:
Onion-date Jam
2 large yellow onions (thin slices)
1 tablespoon olive oil
1/2 teaspoon kosher salt
1/2 teaspoon red pepper flakes
2 tablespoons Balsalmic Vinegar
6 pitted dates, minced
2 sprigs fresh thyme
Burger Sliders (4 oz. beef per slider)
1 pound quality ground beef (more coarsely ground beef is best for a juicier burger)
1/2 teaspoon garlic powder
1/2 teaspoon coarsely ground black pepper1 teaspoon kosher salt
Vegetable oil or grapeseed oil for oiling the grill (in a small bowl with a few rolled paper towels and tongs)
4 oz. chilled goat cheese (keep cold until ready to finish sliders)
Chilled lettuce leaves
Cherry tomato halves
Directions:
1. Fire up the PK grill for direct high heat and indirect medium heat (for onion-date jam)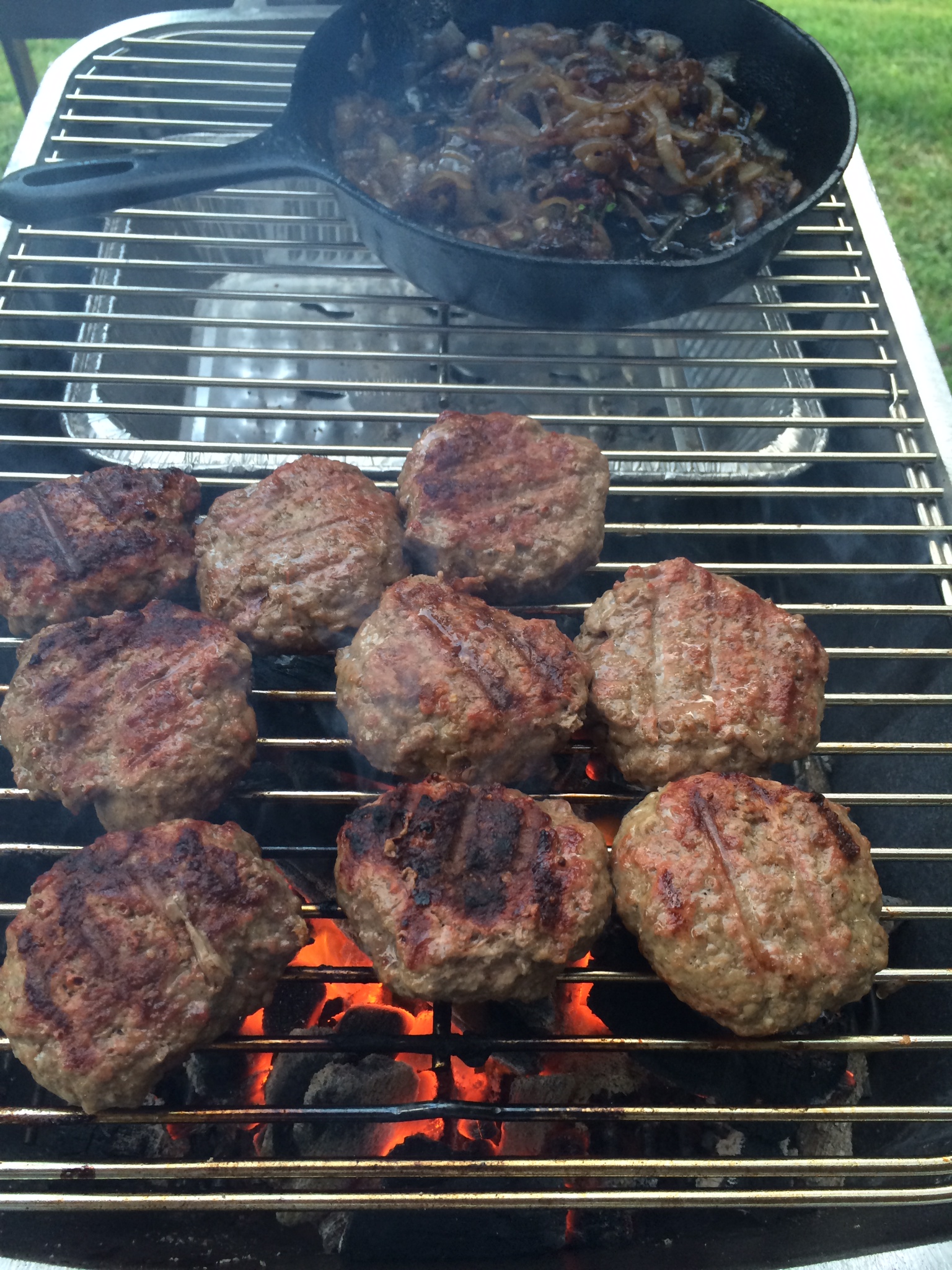 2. When coals are ready place an iron skillet on the grill
3. When skillet is hot add olive oil
4. When olive oil is hot add onion slices and toss with tongs to coat in oil
5. Add kosher salt and toss
6. While onions are cooking form your burger sliders (I used 4 oz. patties)
7. Gently form patties and season with garlic powder. Reserve salt until just before hitting the PK grill
8. When onions are tender add pepper flakes and balsalmic vinegar, continue cooking
9. Using tongs and rolled paper towels, oil the hot direct-heat side of the grill
10. Generously season your patties with kosher salt and black pepper, place on the oiled direct-heat side of the grill
11. Add minced dates and thyme sprigs to the onion mixture
12. When the burgers are smokey and char-grilled on one side, after 4-5 minutes, flip (only one turn)
13. Remove onion jam from grill
14. When burgers are ready (155 degrees) remove to a platter to rest
15. Place lettuce leaf on a plate and top with rested burger, a tablespoon of onion-date jam, a nice portion of goat cheese and a cherry tomato half (add a tiny pinch of salt to the tomato)
16. Enjoy! Any remaining onion-date jam can be refrigerated for up to a week.
Pro tip: When finished cooking your burgers, close all the vents on your PK to extinguish the fire immediately and save your coals for next time.