Posted by Travis Nilsson For PK Grills on 5th Oct 2023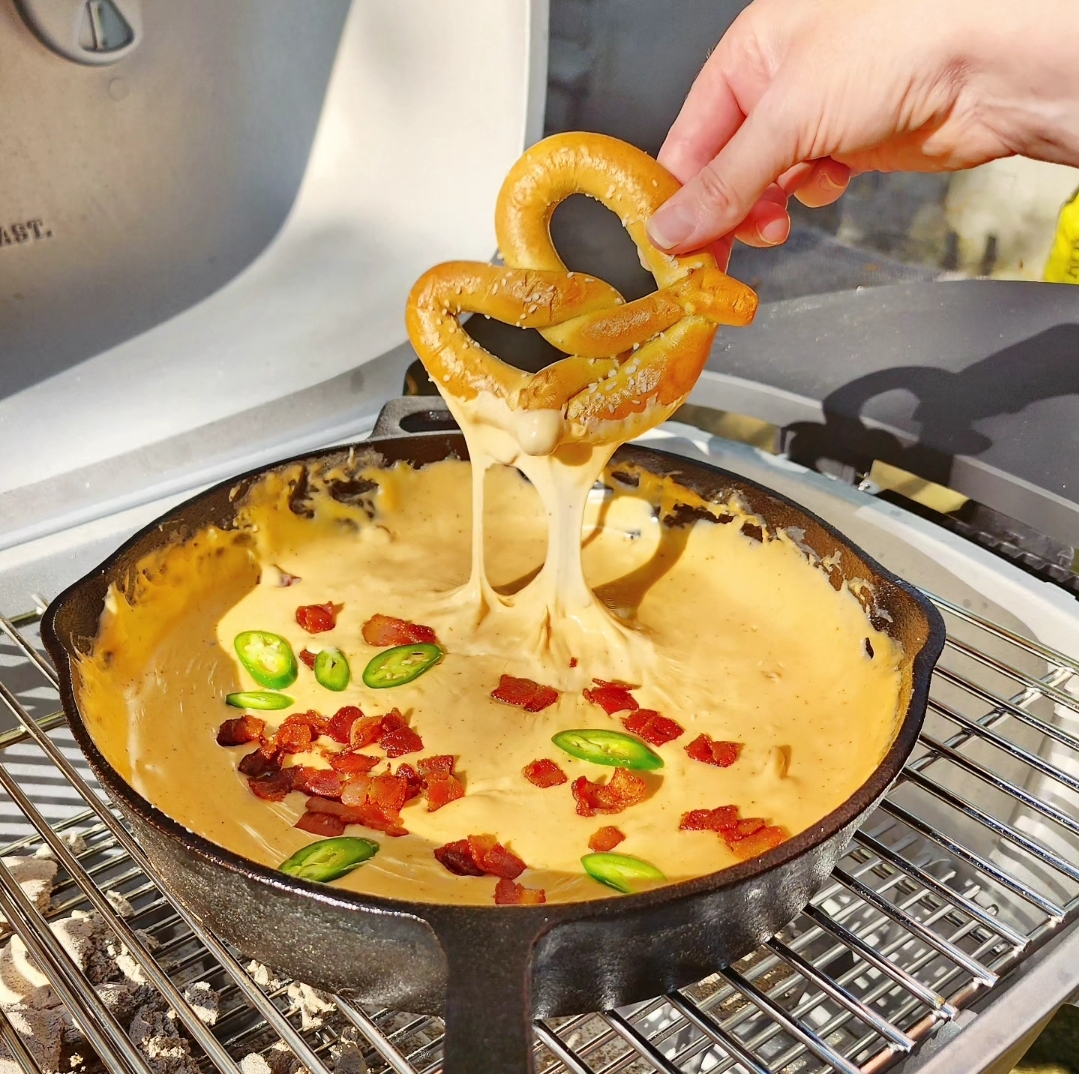 There are two mandatory ingredients for any October gathering: Beer and Cheese. Some people would argue those two ingredients are even more important that the guests. I may even be one of those people.
But I digress. Beer and cheese are the primary ingredients in this new go-to October party dip (parties of one count ;). But we took this recipe to Tecmo-Bowl-Bo-Jackson Level by adding everyone's go-to culinary cheat code: Bacon.
Cooking it on your PK infuses your masterpiece with the perfect amount of smoke. So be it Oktoberfest, Taligates, or Halloween shindigs, we dare you to find a better way to honor October.
Tools you'll need:
Your favorite PK Grill (of course)

A Large (12+in) cast iron pan, or heavy bottomed saute pan with high (2 in)

Optional

PK Slotted griddle
Ingredients:
10oz beer, pale ale suggested
12oz bacon
8oz sharp cheddar, shredded*
8oz mozzarella, shredded*
8oz cream cheese, softened
1 tbsp whole grain mustard
1 small jalapeno, sliced, optional
2 garlic cloves, minced
2 ½ tbsp all purpose flour
¼ tsp each, salt and black pepper
*Important- do not use pre-shredded cheeses. They contain anti-caking agents that bind to the cheese and do not allow them to melt easily into the dip. Clumpy dip is a result and everyone will call you Clump Dip for the rest of your life. True story.
Instructions:
Slice bacon into ½ - 1" pieces, set aside.
Season the flour with salt and pepper, set aside.
Have all your ingredients prepped and ready to cook.
Set up your PK for a two zone cook.
Place a large cast iron pan(12in), or heavy bottomed saute pan with high walls(2in), over direct heat.
Immediately add the bacon to the pan while both the bacon and the pan are cold.
Cook bacon until just before crispy (Pro Tip: Cook the bacon with your PK's lid closed as much as you're comfortable with to infuse it with as much smoke as possible)
Remove the bacon pieces from the pan and place on a paper-towel-lined plate to drain, and set aside.
Remove the rendered bacon fat from the pan, leaving about 2 tbsp in the pan.
Move your pan to the cool side of the grill.
Add the garlic to the pan and stir constantly, one minute (Pro Tip: Test one small piece of garlic first to make sure it doesn't burn immediately)
Now stir in the flour and mix thoroughly, 1-2 min.
Add the beer and continue stirring. (you may have to place pan back over direct heat)
It should start to thicken quickly.
Keep an eye on it and adjust where your pan is located, direct heat or not. Note: You'll do the back and forth dance with the pan the entire time. Remember, dancing is fun.
Now add the mustard and mix thoroughly.
Place the cream cheese in the pan and mash with a silicone spatula or whisk and stir slowly to incorporate.
Start to increase your stirring once you see the cream cheese begin to break down.
Once the cream cheese is mixed well, slowly add your shredded cheeses, about 1 cup at a time.
Whisk or stir vigorously until very well incorporated before moving onto more shredded cheese.
Now that your dip is looking super cheesy, stringy and delicious, add 80-90% of your cooked bacon pieces and fold into dip.
Use the remaining bacon and optional jalapeño for garnish on top of your dip.
Keep your pan warm over indirect heat while serving. If the dip gets cold, it will start to solidify.
Keeping the PK lid closed as much as possible will continue to infuse the dip with smoky goodness, but make sure to keep an eye on the temperature so it doesn't burn.
Serve with: Warm pretzels, bread of choice, chicken nuggies, sliced veggies, chips, your fingers (we don't judge), anything else you can dip.