Posted by Paula Disbrowe on 7th Apr 2021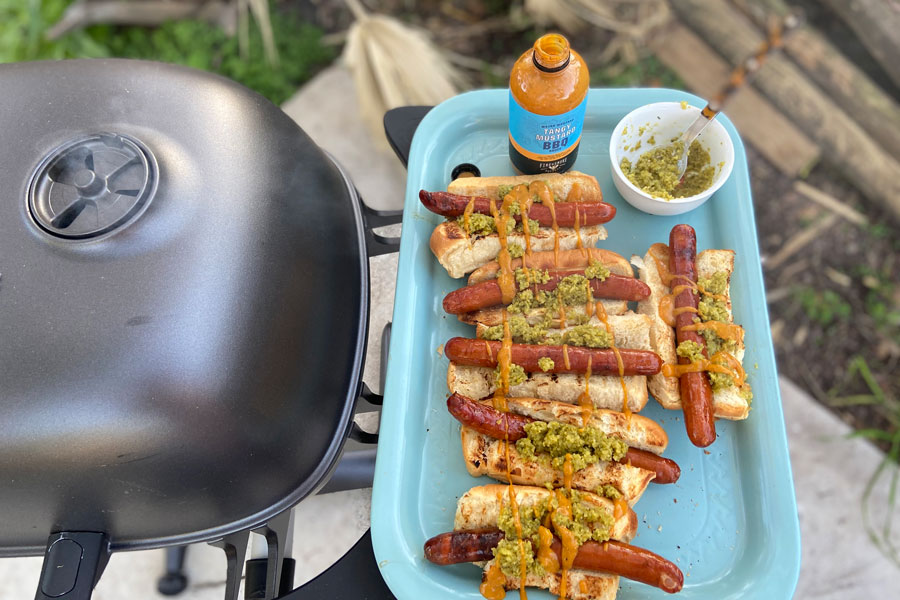 Paula: Needing little more than a quick spin over the heat (and your favorite condiments close at hand), hot dogs are simple enough to cook off whenever a yearning strikes. But, I typically think of firing up franks after I've done a longer cook, say, smoking a butt or brisket, and I'm left with a medium-low to low fire beckoning to be taken advantage of. With a nice pile of glowing embers, franks don't need more than a couple spins, literally, to crisp up the exterior.
Scott: This is the perfect recipe for this month. Spring is springing. People are awakening from the long winter's quarantine, and maybe they just want to shake the dust off their grilling utensils (click twice!) and need a simple dish to awaken those outdoor cooking muscles and get the grill back in service. Why am I even making this case - who doesn't love a tasty dog anytime of year?
Paula: Physician, heal thy self; get your hot dog game rolling! Small but mighty, with a crisp texture and addictively sharp, puckery bite Cornichons are France's answer to pickles. (I usually buy them at Trader Joe's.) In this recipe, I combine them with spicy dill pickles; seek out a variety that's nice and firm (not flabby). For the best flavor, refrigerate the relish for at least two hours before serving, so that it's cold and crunchy against the hot beef frank.
Hot Dogs with Cornichon Relish and Major Mustard
Makes 8 hot dogs
Cornichon Relish:
2 cups chopped cornichons (including any pickled onions that might be in the jar)
1 cup chopped dill pickles
1 shallot or ½ medium white onion, finely chopped
2 tablespoons tarragon or white wine vinegar
1 tablespoon Dijon mustard
1 heaping teaspoon Potato Slayer seasoning
To make the cornichon relish, combine all the ingredients in the bowl of a food processor, and then pulse until the ingredients are coarsely chopped (you want to retain a nice texture for crunch). Transfer the mixture to an airtight container and refrigerate for at least two hours before serving, or up to one month.
Grill the hot dogs directly over a medium-low fire, turning as needed for even blistering. Lightly toast the buns, then serve immediately with the Cornichon Relish and Major Mustard sauce.
Grill-side banter provided by food writer, cookbook author and grilling enthusiast, Paula Disbrowe, and infamous grill nerd and co-owner of PK Grills, Scott Moody.
Find Fire & Smoke Society products near you using our Retail Locator!