Posted by PK Grills on 20th Sep 2023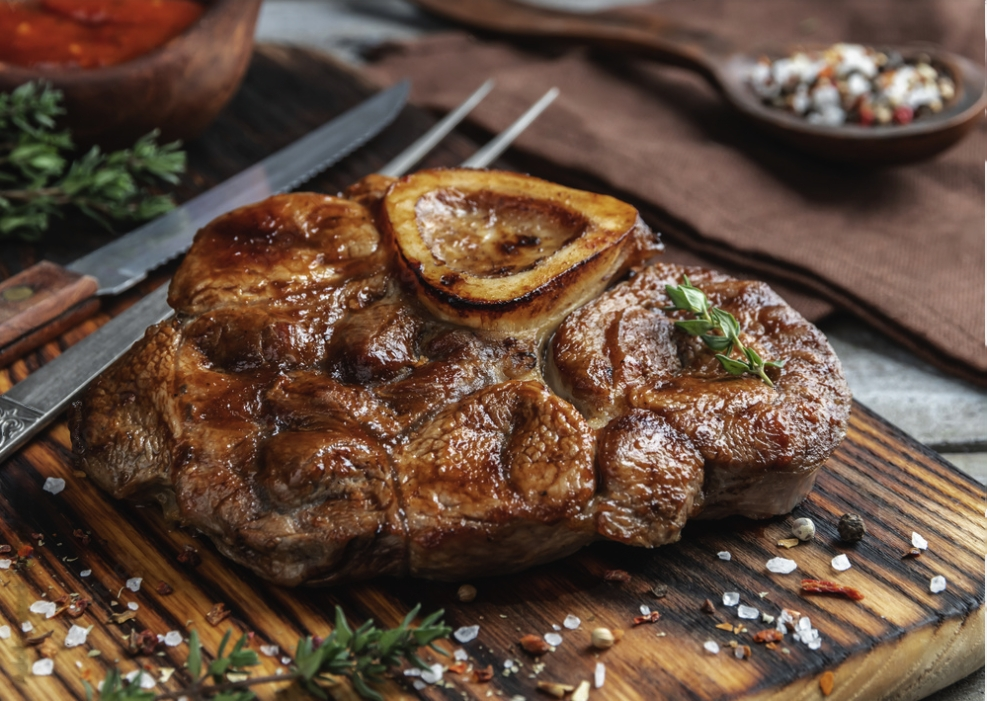 Our low-fat version of this classic dish starts with veal shanks, rubed with our Italian Rub and seared over a hot fire. Like all good Italians, it starts out hot, and then smolders, uh, simmers for hours on a low fire.
Like our chili and short-rib recipes, this one calls for a pot you can leave on the fire, or a disposable pan with heavy-duty foil to seal it up tight.
The smell of this cooking on the grill will call the whole neighborhood to supper, so plan on cooking a lot!
Italian Rub
1 1/2 tsp oregano
1/2 tst ground thyme
2 Tbs paprika (sweet)
1 1/2 Tbs black pepper
1 Tbs garlic powder
1 tsp onion powder
1/2 tsp celery seed
Mix all ingredients with a whisk to make sure there are no lumps. Store in a Ball jar for up to 3 months.
Osso Bucco
1 veal shank per person – up to 4 shanks
1 recipe of Italian Rub (above)
1 small yellow onion
3-4 carrots, sliced
1 stalk celery, chopped
3 cloves garlic, pressed
1/2 cup fresh parsley, rough chop, loosely packed
1 small orange, zested and sliced
3 bay leaves
2 cups chicken stock – double strength
1 can San Marino tomatoes
Rub the shanks with the Italian Rub and refrigerate for 2 hours, covered. Meanwhile, chop the vegetables and re-constitute the chicken stock. Set up your PK in an indirect configuration with the coals piled to one side. When the fire is hot, sear the shanks over the hot fire until browned, and remove them to the pot. Bank the fire and put the pot back on the cold (indirect) side of the grill. You can use a heat deflector or baffle if you have one, but it isn't necessary.
Add the tomatoes, vegetables/orange, and pour the stock on top. Add the orange zest and the bay leaves. Cover the pot, close the grill lid, and close the vents down to about half-way. Check your grill thermometer often, if you can do so without opening the lid. The goal is to keep the temp at about 200 degrees F for two hours. If you cannot get the heat this low (we believe in you!), aim for 250 degrees, but check the meat at about 1.5 hours to see if it's fork tender.
If you can easily pierce the meat with a regular table fork, it's done. Remove to the stove and allow it to cool slightly in the sauce. If necessary, remove the meat and vegetables, and reduce the sauce on the stove or over the coals in the grill. This dish is traditionally served over risotto, but to reduce the calories, we served it over a mash of grilled pumpkin and sweet potatoes. Salude!