Bon Appetit hosted a great interview with pitmaster Aaron Franklin. A man who is more than well known in the world of barbecue. For example: people stand line for hours outside of Franklin Barbecue in Austin, Texas just to try a bite of his agonizingly-slow cooked to perfection brisket. (Yeah, this guy!)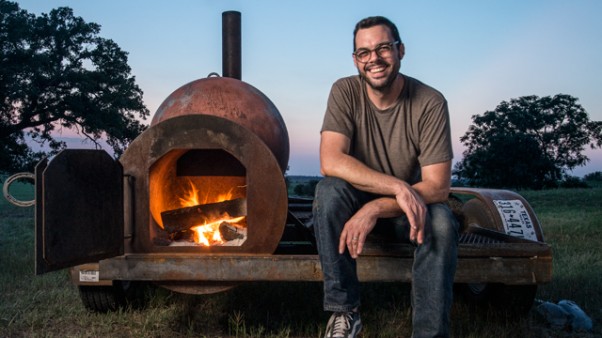 Image courtesy of Franklin Barbecue
During the interview with Bon Appetit, Aaron names PK as is his go-to at-home grill. More specifically he says he loves to create "hot and cool zones on his '50s-style PK grill for tomahawk steaks, shishitos, and more." So naturally, we're thrilled. (Aaron, we'll sear up tomahawk steaks with you any time!)
Why Aaron says the PK Grill & Smoker is his favorite grill:
"My favorite grill is a PK out of Little Rock. They're old-school fifties-looking grills. Rectangular. They're expensive, about three hundred dollars, but it will never rust out because it's aluminum. You can take the whole thing apart and you can put it in the dishwasher."
"It's also great for creating cooking zones because it's rectangular. You can work it like a grill station at a restaurant. You get your coals over here, you get your cool spot on the other side. You've got all these cooks going on at once and just shuffle."
Haven't tried our PK for yourself? Right that wrong and get you one today!
To see what else Aaron shared on grilling and barbecue, read the full story on Bon Appetit.