Posted by Scott Moody on 10th Feb 2016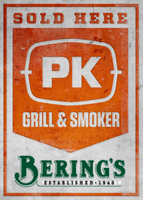 Founded in 1940, Bering's in Houston, Texas had already been in business for over a decade when the first cast aluminum Portable Kitchen Grill was born and pried from it's molds just two hundred miles due north in the small town of Tyler, Texas.
With an incredible mixture of quality products, from hard-to-find hardware to exquisite gifts, everything for the kitchen and the yard, even gourmet coffee and customized stationery, Bering's is exactly the kind of old world hardware store where you would expect to find our grills.
Bering's offers the kind of personal service that seems near extinction. Today, Bering's has two stores in Houston, Texas that are run under the guidance of August C. Bering IV with the assistance of his son, August C. Bering V, and his daughter, Heather Bering. At Bering's the customer always comes first.
We are proud to say "PK is sold here: Bering's."
Bering's has two locations in Houston, TX. 6102 Westheimer Rd and 3900 Bissonnet St, Houston, TX 77005.