Posted by Reprinted with permission from Thank You For Smoking by Paula Disbrowe on 1st Nov 2019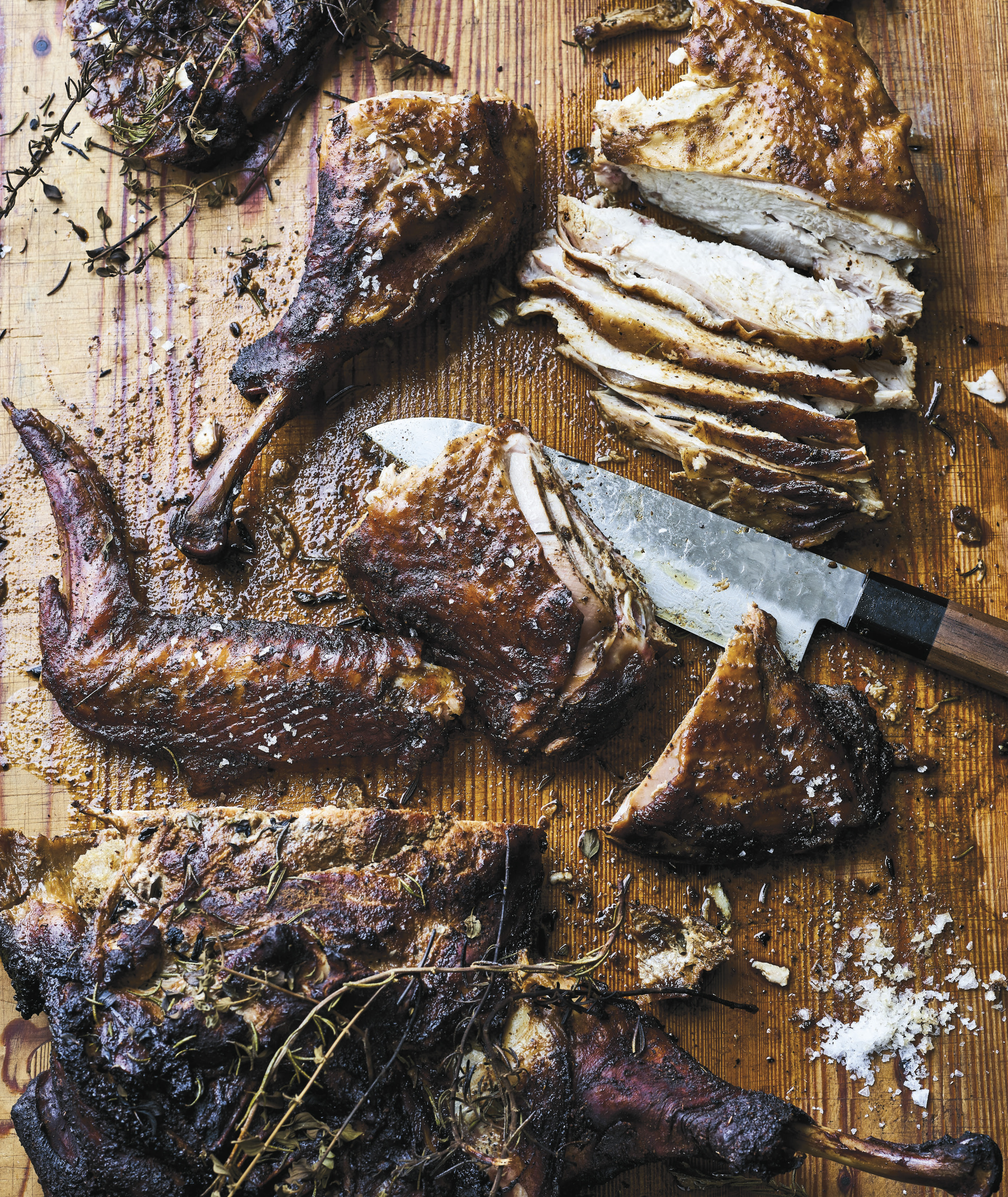 The swoon-worthy results and surprising ease of cooking a whole turkey over a wood-infused fire just might make you rethink your traditional Thanksgiving menu. Two things bring this method together: Butterflying the turkey creates a broad, flat surface that cooks more quickly and evenly. And to address the perennial quandary of how to cook the turkey through without drying out the breast meat, the coals are arranged in a crescent shape that allows both parts of the bird to reach the ideal temperatures at the same time.
You can ask your butcher to spatchcock the turkey for you, or you can wrangle it yourself with poultry shears (be sure to reserve the backbone, neck, and giblets for making turkey stock or gravy). It's important to maintain the grill at a medium heat of 325 degrees F (165 C) to 350 degrees F (175 C) so the skin doesn't get too dark while the meat cooks through. To account for carryover cooking (which is more significant with a large bird), I pull the turkey off the grill at the lower end of the doneness range. Slathered with warm spices, this turkey is delicious on its own, with gravy, in tacos, and sliced for sandwiches.
Ingredients
One 12- to 15-pound (5.4 to 6.8 kg) turkey
Extra virgin olive oil, for drizzling
Kosher salt and freshly ground black pepper
¼ cup (50g) packed light brown sugar
2 tablespoons ground cumin
2 tablespoons ground coriander
2 teaspoons dried Mexican oregano
2 teaspoons sweet paprika
2 teaspoons pure ground chile powder (such as New Mexico or ancho)
2 tablespoons white wine vinegar
Directions
At least 1 hour before cooking, spatchcock the turkey. Rinse the carcass under cold water, pat it dry with paper towels, and place it on a rimmed baking sheet. Drizzle both sides of the bird with oil and season generously with salt and pepper.
In a small bowl, stir together the brown sugar, cumin, coriander, oregano, paprika, chile powder, and vinegar until it forms a thick paste. Use your hands to slather the mixture over both sides of the turkey and set it aside to marinate while you prepare the fire.
Prepare your PK Grill for two-zone cooking and build a medium-high fire.
When the coals are glowing red and covered with a fine gray ash, use your tongs to arrange them into a crescent moon shape and add your smoke source (chips, chunks, or log). Carefully wipe the preheated grill grates with a lightly oiled paper towel. Using a grill brush, scrape the grill grates clean, then carefully wipe with a lightly oiled towel again.
When the fire begins to produce a steady stream of [clearish or blue-tinted] smoke, place the turkey on the grill, skin-side down, with the turkey legs and thighs situated over the direct heat of the coals and the breast toward indirect heat. Close the grill, vent the grill for smoking, and smoke for 2 to 2 and ½ hours, until an instant-read thermometer inserted into the thickest part of the thigh reads between 160 degrees F (71 C) and 165 degrees F (74 C). Add additional hot coals or wood chunks as needed to maintain a steady temperature between 325 degrees F (165 C) and 350 degrees F (175 C).
Transfer the turkey to a cutting board to rest for at least 20 minutes, then slice it into portions and serve immediately.