Posted by Scott Moody on 14th Feb 2018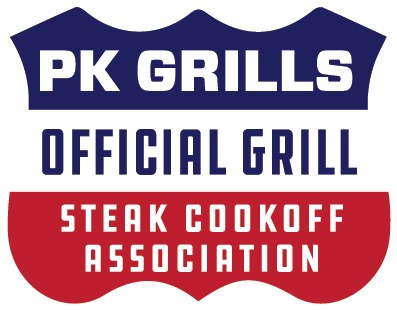 LITTLE ROCK, February 14, 2018 -- Portable Kitchen's Inc., and the Steak Cookoff Association announced today that the PK Grill ® has been named the Official Grill of the Steak Cookoff Association for the 2018 competition cooking season. In recent years, the Original PK Grill & Smoker and the company's new flagship PK360 Grill & Smoker have become extremely popular among the competition steak cooks who will compete in up to 175 individual events this year in the US and worldwide.
The first aluminum Portable Kitchen grill capsule was designed and produced in 1950s Texas. Made entirely of aluminum, these quirky grills didn't rust while also being extremely efficient conductors of heat. Because they had four vents, instead of the standard two, they could do dual purpose as a grill or a smoker. The PK Grill ® , as the product came to be known, quickly made a name for itself as a portable, reliable and long lasting option for grilling and smoking. The grills proved extremely durable and many of the 50's era originals are still in use.
In 2018, the company is rethinking outdoor cooking with a heavy emphasis on quality, ease-of-use and lifetime value. The line of new cast aluminum PK Grills and grilling accessories pays respect to the heritage of the brand while addressing the needs of the modern outdoor cook. "We are proud to be the Official Grill of the Steak Cookoff Association. The SCA comprises a great and growing community of people." says Brian Taylor, co-owner and CEO. "These outdoor cooks really put our products to the test. We have learned alot about how to make our grills better for the average backyard grill user by working with the SCA and their members. Also, the steaks are incredible."
The Steak Cookoff Association was founded in the fall of 2013 and held 18 events that year in 3 states. In just 4 short years, the SCA has grown to over 2500 members and will hold 175 events in 32 states and 14 countries across the world. "PK has quickly become the go to grill for many at SCA competitions and the SCA is proud to officially partner with PK Grills for the 2018 season." said Ken Phillips, Co-founder Steak Cookoff Association.
To learn more about the Steak Cookoff Association and to see a calendar of events visit www.steakcookoffs.com
To learn more about PK Grills or to become a dealer or affiliate visit www.pkgrills.com.