Ok, PK enthusiasts - picture this: a rack of ribs cooking on your portable BBQ grill that is so luscious, so perfect and caramelized, the candied crust teases your taste buds with every juicy, tender BBQ bite. Okay, you have a little drool right there. Wipe that off, crack open a bevvy and light up your PK Grill, because you can make this delicious food dream a reality in your belly. Follow the instructions below to make your dreams come true.

Rack pork loin ribs for every 2 people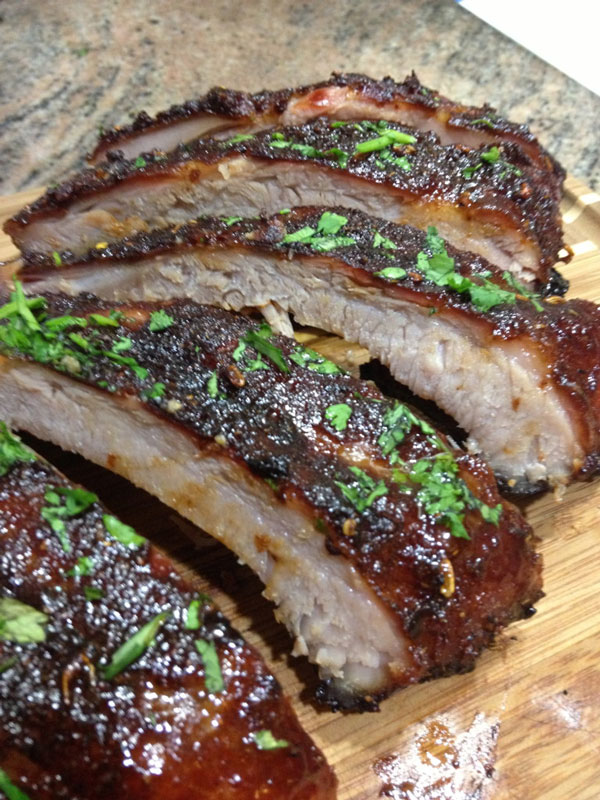 Dry Rub Mix:
Kosher salt

Brown sugar

Freshly ground black pepper

Chiquilin Smoked Paprika

Fennel seeds

Colman's Dry Mustard

Garlic powder

Onion powder

Red chili flakes
Basting Sauce:
Soy sauce

Mirin

Lemon juice

Sesame oil

Red pepper flakes

Chopped cilantro

Prep the dry rub mix in a small bowl.
Clean the ribs by removing the back membrane.
Salt and pepper both sides and spread the rub spice mixture over the top of the ribs.
Wrap ribs in plastic wrap and foil and place in the refrigerator overnight to marinate.

If you can't do overnight, give 'em at least 30 minutes at room temperature.

Once you're ready to cook, brush the cooking grates clean with a wire brush. Heat your portable bbq grill to 250°, place the ribs bone side down, and close the lid.
Mix together basting sauce and baste ribs after 30 minutes of cook time.
Cook until the meat has shrunk back from the bones at least ½ inch and the internal meat temperature is 196°, about 1 hour. Baste one more time. Keep the temperature of the grill at 250°.
Remove the rack from your PK grill and let set for 10 minutes. Cut the rack into individual ribs, sprinkle chopped cilantro over ribs, serve warm and wait for the applause.
View the full recipe for Spicy Asian BBQ Ribs on keviniscooking.com.

Looking for a few other great BBQ recipes? Here are some of our best: